Say it with Socks – My Top '21 Trend Right Now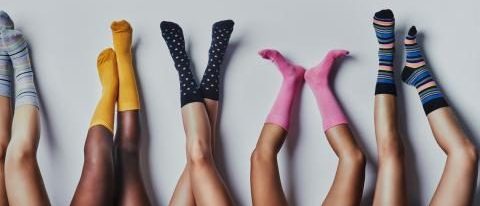 It would be an understatement to say it's been a funny old start to the year. Right now I'd usually be seeing how the highstreet shops start to bring in the upcoming trends. I've no doubt that will happen when things open back up, but whilst we wait I'm asking myself what trends will work in our current daily lockdown life?? And I've found it!! The humble SOCK is having its moment, and I for one am super excited!
Why am I so excited by the sock you ask? It's because so many of my clients (and me) ask during these colder months "I love that look, but how can I wear those cropped jeans / skirts / dresses without getting cold?" So with the sock taking centre stage you can add in this one seen as 'basic item' into your outfits for comfort, warmth and now a stylish twist. That's a win win!!!
There are many ways to interpret this trend, but read on for my Top Four Tips to keep your Toes Twinkling (see what I did there)! I hope this inspires you, and I can't wait to get back out there for styling fun soon. Contact me via www.redefinedstyling.co.uk to book in your Spring appointment.
Big hugs as always….Elise xx
Luxury becomes practical – the chunky Cashmere sock
Cashmere has long been the ultimate way to keep warm during Winter. However if buying cashmere clothing is out of budget right now, then you'll love the chunky sock trend to get a taste of it. After being inspired by @fashionablepan with her Insta feed, I enjoy pairing a neutral thick high leg sock with leggings and hightops / biker boots to give you an 'on trend' look. This type of styling will see you through many a 'lockdown walk' this month for sure.
Work that crop – ankle socks
Use this S/S '21 trend to expand the life of Wardrobe items that would usually only come out in Spring. Combine practical shoes such as a Chelsea boot or trainer, layer in a fun sock and complete with cropped jeans or a midi skirt. Anything goes with this styling idea and completely depends on your mood that day or style personality. Go crazy with clashing prints and colourways, colour co-ordinate with the rest of your outfit, or keep subtle and streamlined. It's your choice but above all the sock is very much part of the final look.
Sheer and adorned – Lady-like socks
If sparkles, bling and luxe fabrics are your thing, then you can now get this all from your socks too! Play around with pearls, shimmery lycra or other pretty detailing to make your ankles pop. But if you really want to embrace this trend, then sheer socks are where it's at. They create such a stunning statement. And the best way to style them in my opinion is to contrast the feminine socks with funky trainers / bold prints / rock-chic vibes to mix things up and make it that little bit unexpected!
Logo mania – Designer socks
And like that we're going back to the 90s, logo mania is in full swing and if you've got it, flaunt it. This look might not be for everyone from both a style and budget perspective, but if you love the designer vibe but without the big price tag, then adding a touch of Gucci or Isabel M branding (to name a few) to your toes creates a perfect style statement.