DRESSING FOR THE BRITISH SUMMER – CARDIGANS CAN BE COOL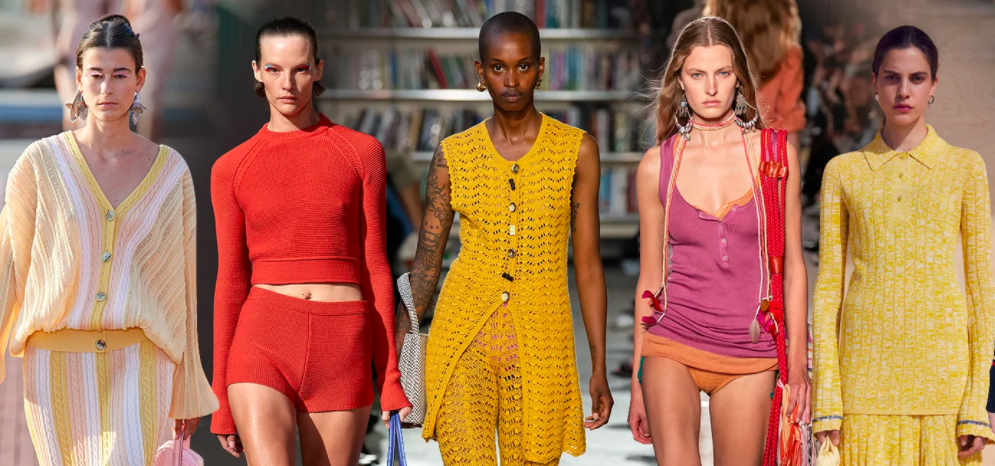 As we all continue on this somewhat surreal journey through lockdown, for many of us planned getaways to hotter destinations are likely to be put on hold. We've been very lucky with the weather in Blighty so far this year, but the last couple of weeks have definitely reminded me that the sun isn't always guaranteed. And even if the weather is good, come evening time when the temperature drops, those layering pieces to keep warm at small garden gatherings will be very much needed.
There are many options to choose from when layering, but one of the exciting things to come out of S/S '20 trends is the humble cardigan is now cool again!! However, if you're sat there still thinking uhmmmmm 'the cardi?!!?', I hope this Blog post will inspire on how to wear this knitwear staple in a way that feels fresh, modern, but ultimately comfortable. I've also included my top picks from the high street and beyond (virtual or otherwise) – click on links in the 2nd pic to shop!
Hugs as always, Elise xx
1: "Off the Shoulder" – MARIE & LOLA
Be effortlessly cool by showing off your shoulders. The art here is to find a vest top (or a bralet if you really want to go for it) that you're happy showing off underneath your cardigan. Because as well as the cardi, this item underneath will be part of your look. Once you've nailed that piece, find a cardigan style in a delicate feminine knit (I suggest going up a size for a slouchy feel), drape off one shoulder and complete the outfit with ripped jeans / casual cargo style trousers, and dainty layered necklaces.
This styling is perfect for all body shapes, but in particular for anyone who is 'top heavy', because it allows you to show off your top half without lots of bulk. You get to celebrate your amazing shoulder-line, and use those cool trousers or ripped jeans to balance things back down towards your fabulous legs!
Steal this style – I love this sunshiny yellow knit from a cute French Fashion brand called Marie & Lola. The colour, delicate knit detailing and pretty pearl buttons means when paired with a casual vest top and slung off the shoulder, you'll nail this look perfectly!
2: "Oversized" – CHICWISH
This look very much builds on the 'off the shoulder' styling, but is great as it works perfectly for the opposite body shape i.e. someone who is bottom heavy and needs to balance things out in their top half.
So go for a statement cardigan in a fabulous colour, texture or print (or all of these things combined) and oversize it to add proportion. You then want to finish it off with items that are streamlined and minimal. That could be a fitted / silky dress, or a pair of slim / skinny cropped jeans or shorts. It's all about keeping everything else simple so the cardi is the hero item. Add a pair of cool summer 'slider' sandals or mules, and you are hot to trot!
Steal this style – This seriously cool statement knit from Chicwish has everything you need to create this look. I love the texture, the round neck and the fact it comes in lots of different colours. I've selected the neutral ivory for this edit as it will go with everything and will be a piece that transitions perfectly into cooler months too!
3: "Cropped" – STRADIVARIUS
If you are an hourglass, pear or slim / athletic shape, you'll want to highlight your waist as much as possible. The very much 'on trend' cropped or waist length cardigan is then a perfect solution to 'line' and celebrate this part of your body.
When styling this item, pretty much anything goes with the items you choose to pair it with…but my main rule is to think about making sure your top and bottoms roughly meet at the same 'line' as the cardigan, so everything balances. Look out for high-waisted trousers, skirts or shorts, combined with a vest top / t-shirt to really showcase this look.
Steal this style – I love the simplicity and the price tag of this Stradivarius cardigan! It can even double up as an 'off the shoulder' option as well. This cardigan comes in four colourways. I've selected the stunning cornflower blue version to give that perfect pop of summer cardi colour! And maybe think of sizing down to keep the cardigan as cropped as possible.
4: "Cardi coat" – ZARA
A long line cardigan (that acts like a coat) has long been a staple wardrobe item of mine, so the fact the cardi is back on trend is just a bonus for me! This look is the ultimate way to create comfy layers. But the art is to find a cardigan as long as you can, practically acting like a duster coat. Search for a style that is slim line (ideally the cardi has some elastane or lycra to add weight) and reaches down past your mid-calf / to your ankle. Style with a t-shirt, denim cut offs (or jeans) and high-tops / ankle boots for a perfect festival / boho vibe!
This is a great styling option if you carry your weight around your middle as it elongates and skims over your middle area, so your eye is drawn away from your tummy and shows off all other parts of your body.
Steal this style – I'll freely admit a duster cardi from Hayley Menzies would be my ultimate choice here…but looking to watch the pennies a bit more I love this statement long line cardi from Zara. Pair with a slogan tee and white or light blue jeans to get the look!
5: "Dressed up" – SEZANE
Even though I'm very much championing the cardigan as a way to be comfy, they don't just need to be for an 'off duty' look. Why not treat the cardigan like a blouse or shirt, button it up and pair with a smart pair of trousers or maxi skirt. This completely changes the look and adds an elevated feel. You could even add a belt for a super chic finish.
The art here is to find a sleek and feminine 'fine knit' style that isn't bulky. Even better, look for styles with detailing such as a round neck, dainty buttons etc, so you add to that super chic French feel!
Steal this style – I found it so hard to decide between two brands, I've had to include both!! The first blush option from Mango is super cute and in the sale right now…so don't delay if you want to snap it up. But for ultimate French chic, the Sezane cardigan is stunning! It comes in a few colours but this red soft knit version nails the brief in so many ways!!!