ULTIMATE FOOTWEAR FOR WARMER MONTHS – THE WHITE TRAINER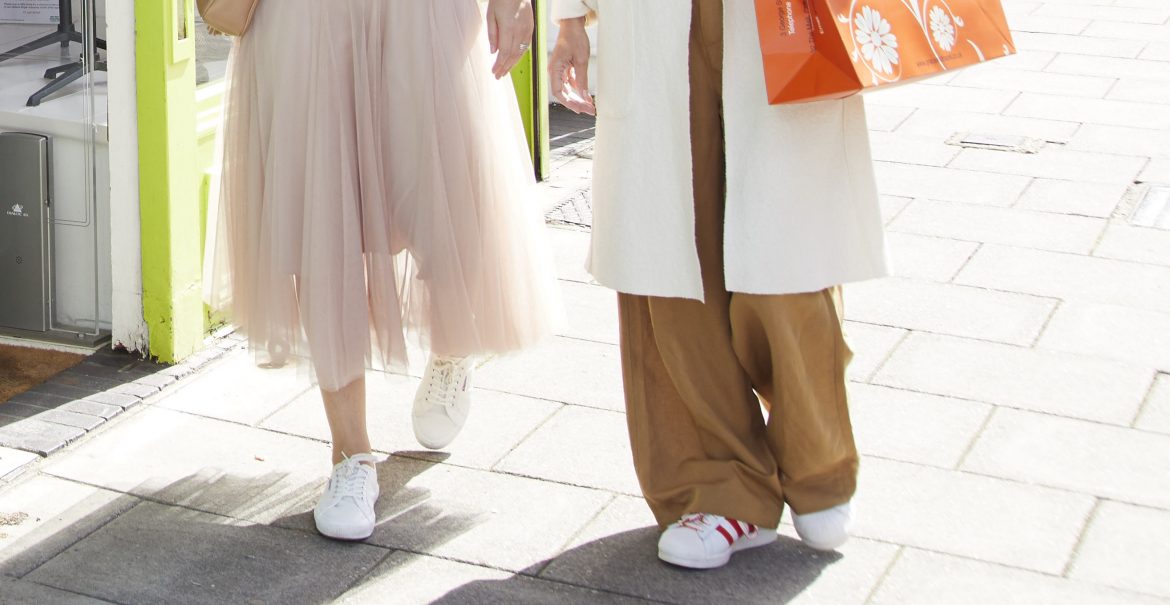 When the warmer weather arrives it can feel that certain sections of your wardrobe become a minefield when you wouldn't have blinked an eyelid during Autumn / Winter. One of these troublesome areas many of my clients have as we get into Spring / Summer is – footwear.
In many ways, I think this dilemma becomes a dilemma because we become more creative with what we wear when the sun comes out. We branch out of core jeans & jumper looks, into experimenting more with skirts, dresses, shorts etc. Therin lies the rub (no pun intended, ha ha!), as you're potentially dealing with less familiar outfit combinations.
I could spend so much time on Summer footwear and if you're up for it, can do this in future Redefined Styling Blogs. But as times are a bit crazy right now (to say the least), I wanted this article to focus on the Summer footwear item I couldn't be without every year – the White trainer.
This is a key staple of mine throughout the year, but even more so when the weather gets warmer. So if you're looking to invest in any type of footwear now (no matter how big or small your budget), this is without a doubt the item I feel will work the hardest. Check out my top six white trainer styles to give you some inspo!
Click pics for links to access each item. Hugs as always.…..Elise xx
1: "The S/S '20 Platform Sole trend" – NEW LOOK
Every season the catwalk loves to take capsule items and add a twist. With the white trainer, the biggest 'twist' trending for S/S '20 is a platform sole. Apart from looking pretty funky, the platform sole is great for adding a bit of height if you fancy it without needing to whack on a heel. A total RESULT in my book! These white canvas options from New Look are perfect. Not too bulky, therefore easy to wardrobe and also non-leather too. Plus being £14.99 they're a fabulous price to have a mini flutter. Or eerrrrhmm an option to add to your current white trainer collection…and clearly those thoughts I would know nothing about 😉
2: "The Rolls Royce of Comfort" – AIR & GRACE
I'm like a kid in a sweet shop when it comes to Air & Grace – I love them all. When coming across this brand first off I was slightly hesitant if the hype was true and were they worth it? But I took the leap and OMG they do not disappoint…they are the comfiest thing I've ever put on my feet. Totally worth every penny, plus knowing you're supporting a small business who takes such care with their supply chain, is even better.
So to pick one pair to select here is like asking me to choose between my kids 😉 But as the theme is white trainers, I've stuck to that and narrowed it down to two. I've chosen the classic Cru Signature Trainer…simple, elegant, goes with everything and most importantly includes the patented 'walking on clouds' sole. BUT I also had to add in the Roxy! It's the same design as the Cru, but with this seasons platform sole and some sparkly heel detailing, they have that extra twist. I promise you won't look back and the problem is you just want more styles, ha ha!
3: "The dainty way to wear white trainers" – SUPERGA
I get many clients who are conscious about the size of their feet. I myself sometimes fawn over the super cute small sizes, then have to ask for my size (which isn't so cute), so I totally get it. If you're looking for a trainer that's slimming and works well with dresses and skirts (as well as jeans / shorts / trousers etc), then the Cult Superga trainer is by far my best recommendation! I love my pair and in particular because this option has a full leather finish. So as well as looking chic and slim, the fabrication gives the footwear an elevated feel – which is great when you're trying to create a smart but comfy look!
4: "No two white trainers need be the same" – Customise with CONVERSE
Well I've gone to 'paint by numbers' heaven….with trainers!! The cult white canvas trainer from Converse everyone loves has just gone and bettered it! I've had my Converse for so long and they never date. And now you can customise your Converse to truly reflect your personality…how perfect is that! I could of spent hours fiddling around with my dream design, but I plumped for a style that kept to the white trainer theme, but with a twist. Yours could be whatever you want…a perfect #lockdown activity if ever there was one 😉
5: "Get your Fashion Fix with the Dad trainer trend"– KURT GEIGER
It's a look that's sticking around! So if you want to dabble with a footwear fashion fix, then the oversized / 'Dad trainer' is where it's at. The likes of Balenciaga really spearheaded this look. Massive soles combined with a sports luxe design means it's a style to pair with dresses and skirts, as well as jeans, to create that edgier look. If your budget can stretch to Balenciaga, then the 'Triple S Sneaker' would be top of my lust list. However, check out this pair from Kurt Geiger which gives a similar vibe (not the same of course), but for a fraction of the price.
6: "Functional design combined with Italian elegance"– AXEL ARIGATO
Most of my clients know that when choosing an item for them, sourcing pieces that are functional as well as fun, is what it's all about with your Redefined Styling experience. These stunning trainers from Axel Arigato do just that. Combining a beautiful and well made white trainer design, with a timeless shape, the fun edge is added in with stunning embroidered birds. This design has a 3/4 colourway options, but I've fallen in love with the colourful 'birds of paradise' version that produces a trainer that stands out for all the right reasons.